SPONSORS
Sponsor support is extremely important to the success of the EarthWell Festival. Not only is our marketing derived almost entirely from sponsor support, our sponsors in turn help us to present the power of the festival message to an ever-expanding audience.
As a Festival Friend (sponsor), your company or organization will be identified with the most unique Green/Wellness event on the western slope of the Rockies. Additionally, your brand and message will reach thousands of residents who are interested in the healthy products and services you provide.
If you represent a newspaper, magazine, television or radio station, you can sponsor the Festival as a media partner, offering print or broadcast advertising in lieu of cash support.
Sponsor benefits include preferred "shopkeeper" space, premium ad placement in the Festival program guide, mention in our print advertising, logo and links on our website, free Festival tickets for your employees and friends, and more.
Keep in mind that not every business or organization will qualify to be a sponsor with the festival. Our review committee evaluates each application for suitability and adherence to a Green/ Wellness philosophy. We welcome everyone to apply and will contact those that we feel most strongly align with the festival philosophies. We will also work with potential sponsors when suggestions and assistance are necessary to bring their organization into better alignment with a green and healthy future.
Sponsorship can be a wonderful way to help out. You can become a private sponsor of the festival, sponsor a booth for a start up business or sponsor a speaker or activity. Talk to us about the opportunities.
Contact Us to discuss your best options.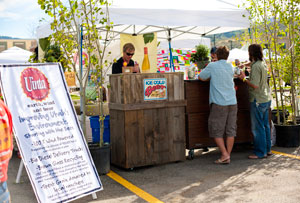 Photo: Jamy Beecher