SHOP SCHOLARSHIPS
As part of EarthWell's commitment to community we have available a limited number of shops which are provided to the shop keeper and subsidized in whole or part.
The intention of the shop scholarship program is to support and promote those individuals, non-profits, and small businesses that we feel are well poised to make a strong contribution to the community.
These entities must:
Operate in the realm of sustainability or wellness.


Share the ideals & values of the EarthWell community.


Have a valid need for the sponsored space.


Be able to fill the requirements to set up shop.


Contribute back to EarthWell in an agreed upon fashion.


If you feel that you, or someone you know, would benefit from this program we encourage you to apply for a Shop Scholarship by contacting EarthWell Administration.


Angel Sponsors:
Perhaps you can only operate your shop for one day, leaving a day when the shop would otherwise stand empty?
Maybe your company is considering sponsoring the festival but would rather pass the booth along to someone who needs it more?
Maybe you just like the idea of helping out someone getting started in business?
Whatever the reason, if you would like to help us provide shop space for deserving entities we would encourage you to contact us to discuss it. We can make sure you are well recognized, or remain anonymous. Either way, the reward you feel in your heart is hard to beat.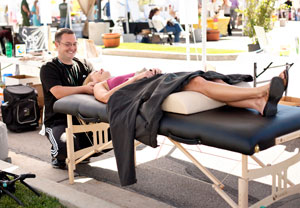 Photo: Jamy Beecher