COMMUNITY
We like to recognize our friends in the worlds of green & wellness by sharing them with you. Have one to recommend? Let us know.


Crystal Springs Healing
Holistic healing at it's best.

Damanhur
A unique, eco friendly, self governed community in Italy. Very cool.

ProClass Web Design
These people build great websites, like this one.

Park City Tile Contractors
Need tile work or stone work? This fellow comes from Mexico where his family has been doing this sort of work for several generations. Beyond regular tile and stone work he is a craftsman, and a green one too, using eco-friendly materials and recycled stone whenever he can.

Exclusive Excursions
Exclusive Excursions is the preferred transportation provider for the EarthWell Festival.

Salt Lake Storage
South Jordan Self Storage delivers with service, support, and security.

Save My Oceans
An excellent overview of the problems facing our oceans along with ideas on how to help.
White Eagle Inn
This beautiful retro motel near Cortez, CO is a sponsor of EarthWell and where we stay when in the four-corners area.
Sugarhouse Self Storage
This is where we store the festival stuff. The cleanest, best-run self storage facility in Salt Lake, and the folks who run it are super nice too!
So. Cal Real Estate
This resort has a lot going for it and only an hour from LA.
Grounds Maintenance Services
While green landscapers are becoming more common we like these guys because they were one of the first to offer eco friendly yard maintenance in Park City.
Tribewanted
Tribewanted is a fascinating project where a team from around the world build a community in a far flung area utilizing international ideas for sustainability and meshing it with the local indigenous culture.
Horizons Roofing
For a roofer, Phil is a little more than ordinary. He bases his work and life philosophy on some very spiritual practices and delivers a great product too. His company, Horizons Roofing, is one of the most sought after roofing companies in Salt Lake City.
Bornholm - Vehicle-to-Grid
Bornholm, Denmark is becoming a test ground for all things green and sustainable. The latest is the testing of the Vehicle-to-Grid concept which enviros tout as being the next step towards zero carbon.
Good Steps
Customizable and adjustable dog steps for every size dog, even those with special health needs. Amazing!
EMA - Green Links
One of the better green links pages we have found. Much has a west coast focus but not bad overall.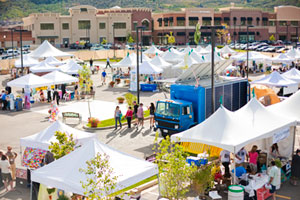 Photo: Jamy Beecher